Thursday, 01 January, 2015
Case Study: G-Suite for Small Teams.
Supporting a local community group with a website, email, shared calendar, documents and more.
Preamble
A small, local branch of a well known political group required a website, email and some collaboration tools to help them work together as a team. As a volunteer organisation, funded by local members, they needed something low cost but simple to use and maintain.
Requirements
A Content Management System (CMS) to manage and publish web content.
Easy to use, custom domain based, email hosting.
Calendar and Document sharing.
Closed User Group Website.
Available Options
Popular CMS options include Wordpress, Drupal, Umbraco and Blogger. The big issue with many of these options was the ongoing price of hosting and maintenance. An annual charge of over ~£200 for hosting is a significant amount of money to a volunteer group.
For email I looked at Google, Microsoft, Zoho, Rackspace and Fasthosts. Free email hosting wasn't an option because they needed professional email with a custom domain; paid email packages, with custom domain support, started at ~£2 per month per email address; but Zoho were offering a free email service with custom domain support.
The Solution
The honest truth is they were lucky. Google were launching the Google Apps suite, now called G-Suite, which provided free custom email hosing for early adopters.
This was perfect because it came with a grown up set of management tools allowing administrators to configure user's features and access rights to all of Google's services - not just email services but also to shared (secure) documents and Google Blogger. This provided a unified system; as the login for the email accounts also gave controlled access to the other Google services, just like an ordinary Google Account.

For a CMS Website, Google Blogger was a perfect fit. Firstly it's free. Secondly there's no maintenance. Thirdly it's great for Search Engine Optimisation and performance. Lastly, it comes with a whole array of wonderful features baked in for free, including free HTTPS, a phone app for uploading content and custom domain support.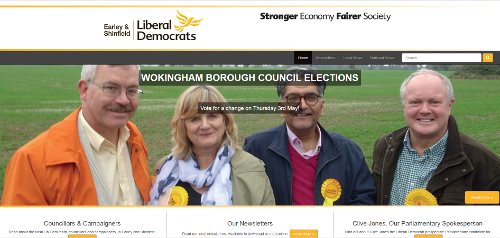 Other services, such as Google Sites, could be used to host a secure, closed membership group and to support the blogger website by providing a free file server for its downloads; and Google Drive and Google Calendar could be used to share documents and calendars.
Conclusion
If G-Suite (Google Apps) hadn't have been free we'd probably have gone with Zoho and a blend of Blogger and Google Sites. Today Zoho provide many more tools, its free tier would be a clear favourite for email and collaboration, but I'm still not convinced Zoho Sites - even though it has blog functionality - competes with Google Blogger and Google Sites
The group has been using  G-Suite for several years now. Google Apps moved on, becoming G-Suite, with the free tier no longer available to new registrants but Google have kindly allowed early adopters to keep their free account privileges. The tools which came with G-Suite enable simple control and administration of Google accounts (email quotas, password recovery, etc). A paid for service offering these features would have cost the group significantly more over the years.