Tuesday, 24 November, 2020
Case Study: Creating Websites with Google Blogger.
Designing a website for a Kindle Author.
Preamble
A request came in from a client requiring a quick, simple, low cost, easily maintainable website which they could update themselves. They didn't want ongoing maintenance costs, to update the software themselves; but they did want a simple, customised website which they could update themselves.

Book Covers: Designed by JAGC for the same Kindle Author previously.
Requirements
A Custom Domain (e.g. www.itsmydomainyall.co.uk [surprisingly not registered at the time of writing!]).
Ability to create and update own content.
Low to no maintenance.
Low cost.
Customised website theme.
Available Options
The options favoured in this sector are:
Wordpress: The most popular Website engine of choice in the Kindle Authoring sector is Wordpress. It's seriously popular. Probably because of the vast number of free themes and plugins available. Support and documentation is great. Wordpress.com offers free plans with advertising and no custom domain support, and plans with a custom domain from £36pa - but you can't upload your own plugins or themes unless you go for the premium option £260pa. Those are pretty good prices for hosting and other hosting providers may offer better deals. For example, a low traffic website on Wordpress site on Windows Azure would cost approx. £180pa to host.
Umbraco: A good alternative to Wordpress is Umbraco. It's based on the .NET platform instead of PHP and has a great, easy to use interface. The support and documentation is also of a very high standard. The downside is you'll almost definitely need a professional web designer to create a theme for you and set it up. There are themes out there but they're few and far between; although there are hundreds of high quality packages providing extra features. Hosting charges are more or less the same as Wordpress.
Blogger: Google Blogger is a bit of a wild card option for website hosting, and is generally not used for professional hosting, but under certain circumstances can work very well for small light weight projects. Hosting is free and there are lots of free themes available; although high quality themes are not so easy to find. It comes with some great built in features like: HTTPS, Custom Domains, contact form, and traffic analysis. The big negative is that the documentation is fairly poor and creating custom themed websites is fairly tricky.
Wix:  For non-website developers a website option like Wix is worth considering. You can build a free website based on one of their templates fairly easy. It's not going to be as flexible as a Wordpress or Umbraco installation, or as good as a bespoke designed theme, but it will get the job done if you don't want to pay for a developer. However a custom domain and more advanced features will require the a premium plan starting at approx £3 per month which is more or less the same cost as a Worpress or Umbraco site.
The Solution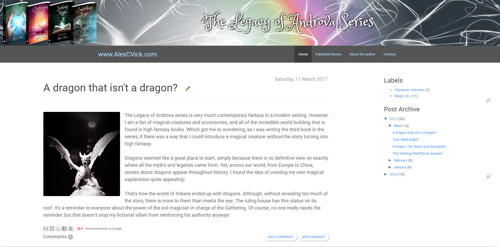 The original website theme
A customised Blogger theme was created based on the Bootswatch Paper theme for Bootstrap. The Client (author) liked the Paper theme and I felt it echoed the client's product - books - nicely.
Blogger provides all the basic website functionality and hosting required, free of charge, and is backed by Google's colossal infrastructure. You don't have to worry about being found as Google makes sure your content is properly indexed on their search engines.
As for communications, the email contact form was connected to the client's own email using a standard Blogger component, and MailChimp was integrated to provide a mailing list.
When the website was released Google didn't offer HTTPS support so the website was placed behind a Content Delivery network which offered HTTPS service for free, and had the added benefit of slightly improving performance. The CDN is still used today as the HTTPS support handles non www sub-domain names better than Google Blogger's own support.
Conclusion
Updated theme with new book art supplied by professional artist.
The client really loved this website, embracing the benefits of blogger and uploaded some great content. The website has been tweaked and updated a few times but is still today running essentially the same base theme.
One concern with Google Blogger is the risk that Google could withdraw or change the service. They're usually quite good at giving long notice periods when they retire services but it would mean website would have to be migrated to a new provider elsewhere. Frankly I wouldn't be too concerned about this as I have clients whose websites have been running on Blogger for 5-10 years and for them it's been a great platform.
For startups or projects with a low budget Google Blogger is a good option. Undoubtedly Wordpress and Umbraco offer more flexibility but not everyone needs that or wants to pay for it.